Tucker C.A.N.
TUCKER COMMUNITY ACTION NETWORK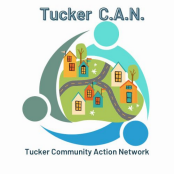 MARCH 2 – NETWORKS
4296 Cowan Road
APRIL 6 – THE MANSIONS
2677 Lawrenceville Hwy
MAY 4 – ST. ANDREWS
PRESBYTERIAN CHURCH
4882 Lavista Rd
Volunteer Organizations
Faith Leaders
Charities
Local Government
THE TUCKER COMMUNITY ACTION NETWORK EXISTS TO SERVE THE TUCKER COMMUNITY THROUGH NETWORKING, SHARING INFORMATION, AND MUTUAL SUPPORT. WE ENDEAVOR TO REPRESENT TUCKER'S DIVERSE POPULATION IN OUR MEETINGS AND ACTIVITIES.
COME SHARE WHAT YOUR GROUP IS DOING AND LEARN ABOUT OURS!