This is a pledge that we, as a community, are committed to promoting age-friendly growth in the City of Tucker. In the United States the World Health Organization has partnered with the AARP to administer the Age-Friendly Community Program. The application was just the first step, and this is where we need your help.
The WHO designated eight areas as having the most influence on quality of life for everyone in a community: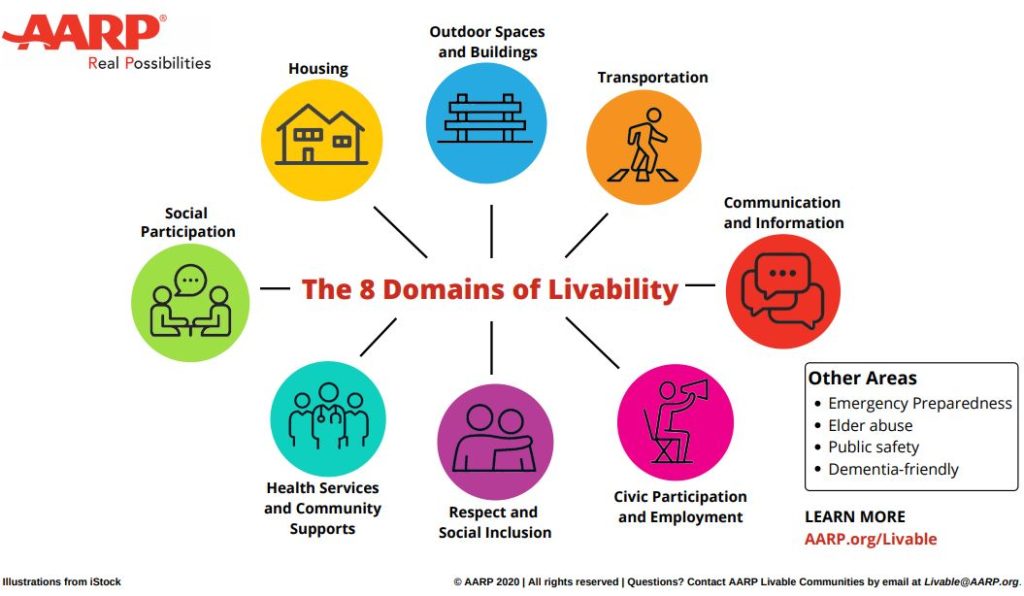 Many are asking, "What does an Age Friendly lifelong community look like?´ Some of the infrastructure changes will be a challenge , but in joining the network of Age Friendly Cities, we will have to figure it out. The challenges of transportation, housing, socialization, and access to services are of importance not only for those who are aging but for everybody. Making more and better housing options available, not only for those who want big houses, but for those who are on fixed incomes, have disabilities, and/or wanting smaller places to live in Tucker.
The greatest challenge is going be if nothing is done. If communities really start working on this and thinking totally about everyone that lives there, they will then check off the needs of all the people in the community. The communities that are going to face the greater challenges are the ones that don't do anything.
If the right people start building a plan, thinking about everyone that lives here, then we will assure our future for a place to live, work, play, pray and stay as Mayor Auman likes to say. Being inclusive is a key component of our future. This means that Tucker has to work for people of different financial means, different abilities, different cultures, and different places in life. This is our chance to give renewed importance to the basics of a livable community, such as education opportunities, safety for everybody, availability of housing and amenities, and being connected.
If you would like to become involved in the Age Friendly Project, send an email to agefriendly@tuckercivic.org.