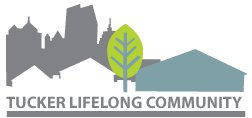 We meet monthly-
We welcome you to join us! We are meeting by Zoom on the 1st Wednesday of the month at 7:00PM. The Zoom meeting link is posted on the Tucker Civic events calendar.
Email tlc@tuckercivic.org for more information.
The Tucker Lifelong Community (TLC) Project is a program implemented by the Tucker Civic Association in conjunction with the Atlanta Regional Commission to create Tucker as such a lifelong community. The goal of the project is to help Tucker be a community to move to and stay in for life. By partnering with the Atlanta Regional Commission (ARC), Tucker will be eligible for many grants and funding opportunities to meet the goal of the project. Learn more about the ARC Lifelong Community Program here.
The Lifelong Committee has several projects and programs they coordinate. To learn more about them, click on the links below:
When Tucker was designated a Lifelong Community in 2013, the committee sent out a survey that focused on what people in Tucker wanted to see in the community. Survey results gave the committee a place to start. Members looked at what is already exists in Tucker.
Parks and green spaces are high on the list and Friends of Tucker Parks work to make all of the parks here in Tucker wonderful places to walk and picnic and play.
Schools in Tucker are important and the city can boast of the quality education being provided from Kindergarten through High School..
The Tucker Recreation Center has become a much utilized location for a wide variety of social and learning activities. It houses Tucker's live theater productions and provides meeting rooms for a number of groups and organizations.
Churches have many programs to meet the many of the needs of Tucker's aging and residents with disabilities. Programs to support those caring for family and others with dementia are soon to be made available in Tucker.
---
---
See us on FaceBook!
[WD_FB id="2″]