COLLIN KELLYTCA STUDENT OF THE YEAR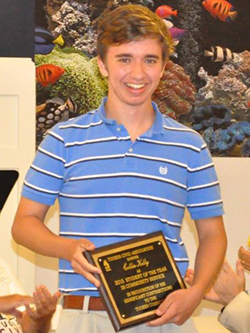 Congratulations to Collin Kelly, Tucker Civic Associations 2015 Student of the Year!
Each year TCA honors a graduating senior from Tucker High School who has embodied the spirit of community service. The award includes a plaque and a $300 scholarship check.
CHANDRA SINGH HONORED AS TCA 2015 MEMBER OF THE YEAR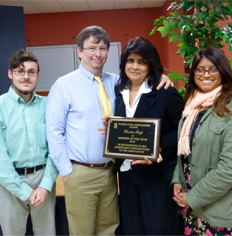 Congratulations to Chandra Singh for winning the Tucker Civic Association 2015 Member of the Year award! For the last two years, Chandra and her family have volunteered with TCA's Give an Hour program and have played a big role in the program's success. We appreciate all that you do for our organization and the community!
TUCKER CIVIC ASSOCIATION WINS TWO AWARDS AT DEKALB NEIGHBORHOOD SUMMIT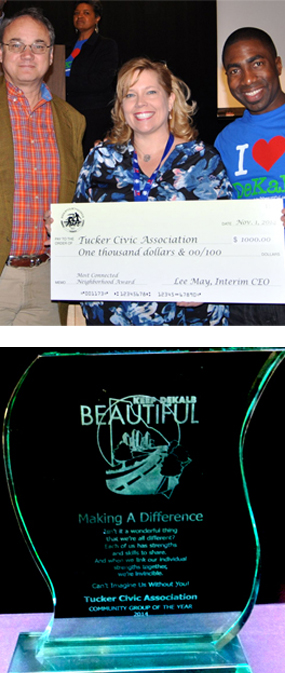 DeKalb County's Sixth Annual Neighborhood Summit was held on November 1 at Tucker High School. The purpose of the Summit is to bring together residents from across DeKalb to meet, exchange ideas and learn how to partner with county departments in order to sustain and improve the quality of life in our neighborhoods.
One of the highlights of the Summit is the "Great Neighborhood" contest. This prize honors neighborhood associations who have demonstrated strong connections with their neighbors, county, faith community, schools, police precincts and youth. This year Tucker Civic Association was awarded the Grand Prize! TCA vice-president Beth Ganga accepted the $1000 check from Interim DeKalb County CEO Lee May and Commissioner Jeff Rader. The prize money will be used to purchase trash cans to be placed at the MARTA bus stops in front of the Tucker Library as well as the Tucker Nature Preserve.
At the Keep DeKalb Beautiful Awards Luncheon, also held at the Neighborhood Summit, Tucker Civic Association was awarded "Community Group of the Year". TCA sponsors many beautification events throughout the year, including cleanups at parks, schools, cemeteries, bus stops and our annual Rivers Alive cleanup of the South Fork Peachtree Creek Watershed.
Thank you so much to all of the Tucker volunteers who have worked so hard over the years to make Tucker a community worthy of such accolades!
WHAT IS THE TUCKER CIVIC ASSOCIATION
Tucker Civic Association is a non-profit volunteer organization of residents and business owners located in Tucker, Georgia.  We are committed to promoting a healthy, safe, and fun community for all residents –the young, the aging, and the people who care for them.
What does Tucker Civic Do?
We preserve the small town atmosphere of Tucker and maintain the integrity of our residential areas
We help improve commercial areas and encourage a robust local economy
We are the "go-to" group for planning, land use, and zoning issues in the Tucker area
We work with parks and green space initiatives
We partner with public safety groups such as neighborhood watch programs, police officers, and fire stations
We establish good relationships with other organizations in metro Atlanta, such as the ARC, ONE Dekalb, and others
How Can I Volunteer? The Tucker Civic Association sponsors a "Give An Hour" (GAH) volunteer project each month. The GAH program allows community members the opportunity to be involved by giving just one hour a month doing such things as helping spruce up a local park, providing items to a local food bank or showing support for our local police and fire personnel.
TUCKER LIFELONG COMMUNITY
Through the Atlanta Regional Commission's (ARC) Lifelong Communities Initiative, Tucker has received $28,000 in grants from Grantmakers in Aging and the Pfizer Foundation to promote housing and transportation options, encourage healthy lifestyles, and expand access to services, as part of Community AGEnda: Improving America for All Ages. This new initiative is funding nonprofits in five U.S. cities to help accelerate local efforts to make communities more age-friendly and places where older adults can age in place and age well.
Stakeholders in Tucker have identified three primary projects that aim to increase safety for residents of all ages; sidewalks on Main Street will be outfitted with handrails, three community gardens will see upgrades to accessibility and capacity, and Tucker-area bus stops will be retrofitted with new seating to improve comfort and ease of use for MARTA riders. In addition to the infrastructure projects, ARC and Tucker stakeholders will collaborate on additional health and wellness education programs and Lifelong Communities Initiatives.
Tucker Lifelong Community has also received a grant from the Community Foundation for Greater Atlanta that includes $5,000 to support programming and planning focused on senior services and engagement and $10,000 for community coaching to set up and implement the program.
The Tucker Lifelong Community Project is committed to creating a "home for a lifetime" by building, promoting, and expanding accessibility of service programs, diverse housing and transportation options, and encouraging healthy lifestyles for residents of all ages. The program is based on input from the community through surveys and ongoing focus groups and upcoming events.
For more information, please visit the Tucker Lifelong Community website.