RIVERS ALIVE IS BACK!
On October 4, from 9 AM to Noon, TCA will be hosting its 6th annual Rivers Alive Cleanup Event at two locations along the South Fork of Peachtree Creek: at Sarr Parkway and at Cowan Rd. To date, the TCA Rivers Alive team has removed 62,000 pounds of trash out of our watershed, but Tucker's waterways still need your help. This is your opportunity to help us protect one of our most precious resources! Breakfast and lunch will be provided, as well as live music from Tucker's own Zach Whiteis! Volunteers must be at least 10 years of age. For more information, email Beth Ganga at vice-president@tuckercivic.org. Hope to see you there!
To register yourself or your group for this event, click here:
CALL FOR NOMINATIONS
TUCKER CITIZEN OF THE YEAR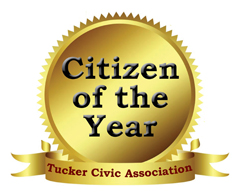 The Tucker Civic Association will present its "Citizen of the Year" award at the organization's fall membership meeting which will be held on October 13.
The "Citizen of the Year" is presented to a Tucker resident or business owner who has contributed significantly to the progress and preservation of the Tucker community. The winner does not have to be a member of TCA.
Anyone can submit a nomination by writing a short essay explaining why the nominee deserves to win. Each nomination should list address and phone number of the nominee and of the person who submits the nomination. Nominations can be mailed to Tucker Civic Association, P.O. Box 1916, Tucker GA 30085, or emailed to vicepresident@tuckercivic.org by Friday, September 26.
WHAT IS THE TUCKER CIVIC ASSOCIATION
Tucker Civic Association is a non-profit volunteer organization of residents and business owners located in Tucker, Georgia.  We are committed to promoting a healthy, safe, and fun community for all residents –the young, the aging, and the people who care for them.
What does Tucker Civic Do?
We preserve the small town atmosphere of Tucker and maintain the integrity of our residential areas
We help improve commercial areas and encourage a robust local economy
We are the "go-to" group for planning, land use, and zoning issues in the Tucker area
We work with parks and green space initiatives
We partner with public safety groups such as neighborhood watch programs, police officers, and fire stations
We establish good relationships with other organizations in metro Atlanta, such as the ARC, ONE Dekalb, and others
How Can I Volunteer? The Tucker Civic Association sponsors a "Give An Hour" (GAH) volunteer project each month. The GAH program allows community members the opportunity to be involved by giving just one hour a month doing such things as helping spruce up a local park, providing items to a local food bank or showing support for our local police and fire personnel.
TUCKER LIFELONG COMMUNITY
Through the Atlanta Regional Commission's (ARC) Lifelong Communities Initiative, Tucker has received $28,000 in grants from Grantmakers in Aging and the Pfizer Foundation to promote housing and transportation options, encourage healthy lifestyles, and expand access to services, as part of Community AGEnda: Improving America for All Ages. This new initiative is funding nonprofits in five U.S. cities to help accelerate local efforts to make communities more age-friendly and places where older adults can age in place and age well.
Stakeholders in Tucker have identified three primary projects that aim to increase safety for residents of all ages; sidewalks on Main Street will be outfitted with handrails, three community gardens will see upgrades to accessibility and capacity, and Tucker-area bus stops will be retrofitted with new seating to improve comfort and ease of use for MARTA riders. In addition to the infrastructure projects, ARC and Tucker stakeholders will collaborate on additional health and wellness education programs and Lifelong Communities Initiatives.
Tucker Lifelong Community has also received a grant from the Community Foundation for Greater Atlanta that includes $5,000 to support programming and planning focused on senior services and engagement and $10,000 for community coaching to set up and implement the program.
The Tucker Lifelong Community Project is committed to creating a "home for a lifetime" by building, promoting, and expanding accessibility of service programs, diverse housing and transportation options, and encouraging healthy lifestyles for residents of all ages. The program is based on input from the community through surveys and ongoing focus groups and upcoming events.
For more information, please visit the Tucker Lifelong Community website.