150th ANNIVERSARY OF THE
CIVIL WAR IN TUCKER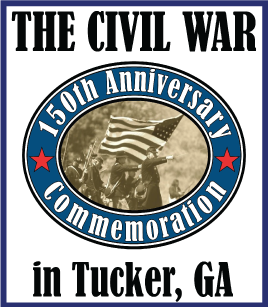 This year marks the 150th Anniversary of the Civil War in Tucker. On July 18th and 19th, 1864, Union troops passed through Tucker on the way to Stone Mountain to destroy the Georgia Railroad in order to cut Atlanta off from the east. They stopped at Browning Courthouse and camped at Henderson's Mill. Tucker Historical Society and Tucker Civic Association will be hosting a commemoration of this event on Saturday, July 19th from 10:00 AM to 3:00 PM at Browning Courthouse in front of the Tucker Rec Center.
The Tucker Historical Society will be on site, hosting an Open House with a series of speakers and information about the Civil War in Tucker. Scheduled to attend include Fran Frantz portraying the historical "Mary Gay" in costume and Gregory Bailey, who was recently featured in Tucker Up Close and Personal, speaking about his slave ancestors. Mary Bolton will be speaking about the Civil War and Civil War enthusiast Frank Russell will be on hand in uniform and will be bringing a cannon (non-firing) as well as other interesting period items. TCA and other community groups representing "Tucker's Past, Present and Future" will have booths with information about their organizations from 10:00 AM to 1:00 PM. Main Street Music is hosting a Kids Area with a historical musical instrument "petting zoo" and sing-a-longs with historical Civil War-era music. Lunch will be provided courtesy of Tucker Civic Association.
Come on out and learn about Tucker's past, have a bite, and have some fun!
TUCKER SUPPORTS SMART LUNCH, SMART KID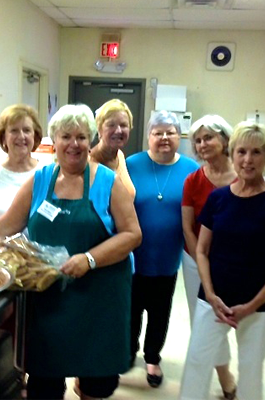 Thanks to all the volunteers from TCA, Stone Mountain Woman's Club, Northlake Rotary Club, CSR Computers and Tucker First United Methodist who came out to help us prepare and pack 400 lunches for Action Ministries' Smart Lunch, Smart Kid program. This initiative connects kids who receive free or reduced-price lunches during the school year with nutritious meals during the summer months. This is Tucker Civic Association's third year participating in the program.
Special thanks to our sponsors, Northlake Rotary Club, Northlake Branch of Georgia United Credit Union, Stone Mountain Woman's Club and everyone who donated food and money to help us meet our goal, and to the Tucker Farmers Market for providing a place for us to accept donations. Great job, everyone!!
TCA NAMES STUDENT OF THE YEAR
Each year Tucker Civic Association awards the Student of the Year Award to honor a graduating senior from Tucker High School who has embodied the spirit of community service.
This year's Student of the Year, Anna Brechin, participates in volunteer work with a number of organizations, including Habitat for Humanity, National Honor Society, Tucker Civic Associtation, and St. Andrew's church. Anna graduated from Tucker High School's rigorous IB program in May and plans to attend UGA in the fall.
She was presented with a plaque and a scholarship check for $300 at the TCA Membership Meeting on May 19 by Vice President Beth Ganga. Congratulations, Anna!
WHAT IS THE TUCKER CIVIC ASSOCIATION
Tucker Civic Association is a non-profit volunteer organization of residents and business owners located in Tucker, Georgia.  We are committed to promoting a healthy, safe, and fun community for all residents –the young, the aging, and the people who care for them.
What does Tucker Civic Do?
We preserve the small town atmosphere of Tucker and maintain the integrity of our residential areas
We help improve commercial areas and encourage a robust local economy
We are the "go-to" group for planning, land use, and zoning issues in the Tucker area
We work with parks and green space initiatives
We partner with public safety groups such as neighborhood watch programs, police officers, and fire stations
We establish good relationships with other organizations in metro Atlanta, such as the ARC, ONE Dekalb, and others
How Can I Volunteer? The Tucker Civic Association sponsors a "Give An Hour" (GAH) volunteer project each month. The GAH program allows community members the opportunity to be involved by giving just one hour a month doing such things as helping spruce up a local park, providing items to a local food bank or showing support for our local police and fire personnel.
TUCKER LIFELONG COMMUNITY
Through the Atlanta Regional Commission's (ARC) Lifelong Communities Initiative, Tucker has received $28,000 in grants from Grantmakers in Aging and the Pfizer Foundation to promote housing and transportation options, encourage healthy lifestyles, and expand access to services, as part of Community AGEnda: Improving America for All Ages. This new initiative is funding nonprofits in five U.S. cities to help accelerate local efforts to make communities more age-friendly and places where older adults can age in place and age well.
Stakeholders in Tucker have identified three primary projects that aim to increase safety for residents of all ages; sidewalks on Main Street will be outfitted with handrails, three community gardens will see upgrades to accessibility and capacity, and Tucker-area bus stops will be retrofitted with new seating to improve comfort and ease of use for MARTA riders. In addition to the infrastructure projects, ARC and Tucker stakeholders will collaborate on additional health and wellness education programs and Lifelong Communities Initiatives.
Tucker Lifelong Community has also received a grant from the Community Foundation for Greater Atlanta that includes $5,000 to support programming and planning focused on senior services and engagement and $10,000 for community coaching to set up and implement the program.
The Tucker Lifelong Community Project is committed to creating a "home for a lifetime" by building, promoting, and expanding accessibility of service programs, diverse housing and transportation options, and encouraging healthy lifestyles for residents of all ages. The program is based on input from the community through surveys and ongoing focus groups and upcoming events.
For more information, please visit the Tucker Lifelong Community website.